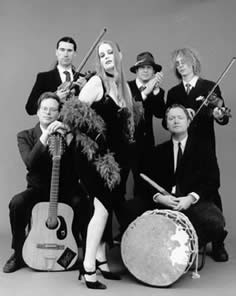 Perhaps Jan Liljekvist, violinist of Två Fisk Och En Fläsk, isn't completely aware about what Prog is: his experience with the Swedish band comes in fact from the passion for folk and medieval music. Even if it isn't a "real" Progressive band, we recognize that desire to widen the boundaries of their beloved music, contaminating it with not traditional styles too, this attitude is evident especially in the third album not yet published at the moment of this interview. We have been impressed so favourably by this nice band (with three percussionists, two violinists and one female singer) that we decided to make a chat with them: The cheerful and kind Jan answered our curiosities, as you will discover reading these lines.

Would you like to introduce the band to our readers? In particular where did you take inspiration for your strange name?

TVÅ FISK OCH EN FLÄSK was formed January 1994 as an acoustic trio with the intention to play medieval music. That intention is still there, but the form of a trio showed too limited and we are now six (sometimes seven) members: vocals, two violins, 12-stringed guitar and percussion. The material has up to now mostly consisted of medieval ballads from Sweden, but also music from other parts of Europe and from more recent times.

TVÅ FISK OCH EN FLÄSK don't do museal work. That is, we do not try to recreate the music as it might have sounded. The intention is the same now, as it was two hundred years ago, as in the Middle ages: to make ourselves and the audience sing, dance and have a good time. We do not hesitate to develop the living tradition and add musical experience from other fields. Most of us have a background in different loud occasions which we use when we arrange and perform our material.

The name comes from the apocrypha of the New Testament where Jesus, contrary to the more known version, feeds the masses with two fishes and one piece of meat.

I've read that you take inspiration from medieval music. Which period in particular? Is all about Nordic music?

Our main source of inspiration has been what is called Swedish Medieval Ballads. It is a very rich source of material, both in form of melodies and lyrics. Mostly written down during the 18th and 19th centuries, this music can be traced down, in some cases, to the 14th century.

What's the exact role of medieval music in your songs: are they "just" modern versions of ancient songs or do you add some traditional elements to your own stuff?

Sometimes we play a song as close as possible "original" version as we can, and sometimes we use a part of one song, put it together with another part of another song and use the lyrics from a third. We can also play music from other countries in Europe, i.e. Douce Dame (France), Mit Ganczem Willen and Im Meyen Secundum (Germany).

Most of these songs, as they are written down, consist of verse after verse after verse, which gives them a drone-like and repetitive quality; some of the groups playing this kind of music are focusing on this repetitiveness. We have a few songs like that, but mostly we like when things change and that's why we often pick parts from two or three different songs to make up one song.

Did you have troubles finding a record label because your music, even if folk-oriented, is not easy to be filed (I think instead it is a positive thing)?

It´s not that we have a problem finding a record company. Our first two CDs came out on a swedish label, Non Stop Music, that for the moment is out of business. "Jungfruburen" is also released on Westpark Music in Europe and Alula in the USA. We have not really made an effort to get "Flesh Workshop" released yet.

Don't you think that your music could be somehow defined "Prog"? Many
Swedish Prog bands do have strong folk influences and anyhow the borders of prog are surely wider than those of folk music…

That depends on how you define "Prog". It is true that we all have lots of different musical influences and that many of them affect our music. We certainly try to push the boundaries a bit, which could be considered "progressive". But even if we sometimes stretch out musically, we usually focus on the actual song. And we would more often cut a part from a song, than add one, to make the song more effective - whereas "Prog", as I see it, would tend to do the opposite. We have more of a rock´n´roll approach, and most of our songs are between 3 and 5 minutes long.

This being said, the average song length has increased for each album, so maybe we're getting there?

You stated that you try to play violin like if it was an electric guitar: what do you mean by that?

When I started to play the violin, by the age of 25, I tried for a couple of years to play in a classical style, very controlled and with a fine, neat tone. When I began to play with Två Fisk I discovered that I could put in the same energy and roughness that I had used when I previously, in the 80´s, played the electric guitar in a rock group, The Shoutless
(www.jayneinsane.com/html/music_shoutless.htm).

Nowadays I´m sporting a lot of effects such as distortion, octaver and wah-wah.

In some tracks you made use of keyboards (In my opinion the give deepness to the music): did you ever think to use them in more extensive way?

We started as an acoustic band that played totally without amplification. For many years we played mostly in environments where it was impossible to find electricity: in the streets, in medieval camps in the woods etc. Since there was no possibility to bring keyboards to gigs like that we never considered to bring in a keyboard player. In studio, on the other hand, we use keyboards to fill up what we think sound too empty, i.e. bass parts or to add flavour to the sound. We have an imaginative producer in Tobias Ersson who makes most of the keyboard work.

You have downright three percussionists: why this choice?

When the band as we know it by now really started to take form, in 1997, Stebbe was the only drummer. We then added one percussionist, to help the groove a bit and expand the possibilities. Gustav filled that space from the autumn of 1998; but when he announced a few months later that he would be moving to Spain, we found Sebastian and for a while they were both part of the group (This is when our second album was recorded). Gustav returned to Sweden a few years later and was of course welcome to join again. Rhythms and groove are important to our music, and our three percussionists gel together very well.

You play some traditional instruments in your albums: would you like to talk about them?

The most "traditional" instrument nowadays in my opinion is the electric guitar. When I switched to violin it was to get away from the limitations of that instrument, playwise and soundwise. I don´t know in what way the instruments we use could be considered traditional but we use cowdrum and djembe from West Africa, tablas and and other indian percussion instruments as well as jews harp and more ordinary drums. Olof plays a 12-stringed acoustic guitar and sometimes a nylon stringed guitar. I play mostly the violin, viola and different flutes, i.e. tin whistle, recorders and bamboo flutes. On "Erbarme Dich" I play a subcontra bass recorder the size of a bassoon. On "Flesh Workshop" I also play the mandolin and krumhorn which is a renaissance instrument.

Beside Två Fisk you also have other musical projects: do you want to tell us about them? How do you manage to concentrate yourself to such different genres of music? What is Två Fisk for you among this mess of sounds?

I don't think in terms of genres, rather in energy and I try to lay down my soul and personal approach to whatever music I play. I don't like the clean, the soft or too harmonic music.

Some of my projects:

I play the violin in the black/folk/viking-metal group Månegarm (www.manegarm.com). We have released five records on the dutch label Displeased and are going to do an european tour this spring and also play at festivals this summer. We´ve just recorded a new album together with Stebbe, Gustaf and Umer from Två Fisk. (Umer has been singing on all the records with Månegarm.)

Recently I performed "Metal Machine Music" by Lou Reed (1975) with the Great Learning Orchestra (home.swipnet.se/sonoloco14/learning/learningframes.html). Metal Machine Music is an early piece of noise music, originally made by feedbacking guitars and amplifier noise, transcribed for orchestra by Ulrich Krieger of Zeitkratzer. Great Learning Orchestra is not an ordinary orchestra but a constellation of musicians from different fields, (impro, jazz, rock) that gathers around odd projects.

In the improvisation group Bugman (www.jayneinsane.com/html/music_bugman.htm) I do live electronics with ordinary objects which I amplify with contact microphones (and play the violin too).

I also compose for (and play in) theater, film, dance, art installations and arrange concerts with electro-acoustic music (www.jayneinsane.com/html/music_compositions.htm). Together with Sebastian of Två Fisk I have different projects with VJs and dancers.

It sounds messy, yes, but somehow I manage to keep it all going.

For me Två Fisk & En Fläsk is one of the constellations where I can find outlet for different parts of my need for musical expression.