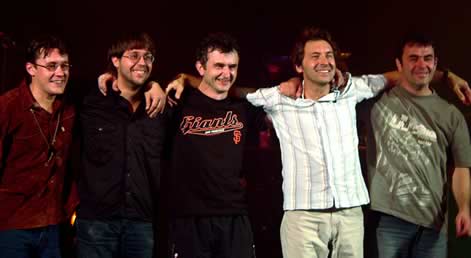 Little Tragedies are the most important Russian Symphonic-Prog group in activity at present and in general one of the most interesting symphonic bands in recent Prog history.
Founded in 1994 by composer Gennady Ilyin who graduated from St. Petersburg Music Academy, Little Tragedies play a complex mix of art-rock and classical music, not reducible to a simple homage to Emerson, Lake & Palmer: you are in front of an elegant re-elaboration of the reference models that become the starting-point for an original and personal language search.
After reaching a certain fame in the last few years for having published three albums, each one so high-quality based that they have received positive feedbacks from prog-fans all over the world, a brand new album is planned to be released within a few months, a double-CD work entitled "Chinese Songs".
Gennady Ilyin, the keyboard player and main "composition engine" of the band, will satisfy the curiosity and answer our questions.

Hello Gennady, thank you for being here with us. Please tell us a short history of your band. Should we think of Little Tragedies as a band with a fixed line-up, or rather as a "project", dynamically open to any kind of evolution?

I would say, both: it's a band open to any kind of evolution. Every musician contributes his personal manner of playing to the overall sound of the band. On the other hand, we obey the material: should the music require some changes among the musicians, the band is ready for it.
As for band's history, when I studied in St. Petersburg, I spent almost every vacation in my hometown Kursk where I had a chance to play and jam with different musicians – this is how Little Tragedies were put together. The band got this name in 1994 and has been playing with the current line-up since 2000.

Tell us more about the other musicians who play in the band now paying special attention to their musical background.

Yury Skripkin used to play in different bands, e.g. together with a virtuoso guitar-player Victor Zinchuk and other hard-, metal-, or jazzprojects.
Oleg Babynin has played in a military band for a number of years.
Alexander Malakhovsky graduated from a music college and played in bands of different styles, e.g. fusion and jazz together with L. Vintskevich, he also took part in some jazz festivals.
Aleksey Bildin also graduated from a music college and played in different bands, in recent years, besides Little Tragedies, he has played bass guitar in Apple Pie (by the way, they released their debut album early this year).

Little Tragedies' music is rich in classical music references (you sometimes find real themes-quotations) and seems oriented to a kind of neo-classical contemporary language. Don't you think it stands in opposition to the musical style that officially professes itself as "progressive", i.e. projected to what is "in front" instead of "behind"? How would you define your musical style?

Music does not evolve from nothing, and you can't do without a succession. It would be impossible that any music, including 'progressive', was not based on the traditions of the past. An experienced ear can most often recognize which composers a certain band is oriented to. I often quote my favourite composers' themes as a starting point or as a climax of my own material, and they blend in quite well. I am not in favour of simply copying the themes and imitating the style. To me, 'progressive' implies creative development, a new understanding. I think the future of the progressive rock belongs to those bands whose music, in spite of the 'old sound' and classical influences, would have the 21st century THINKING…
I am pretty comfortable with the label "progressive rock", though it doesn't exhaust all the features of my music. I share something common with the composers of Romanticism, Impressionism, etc. as well.

In your songs you often find an alternation (almost a struggle) between moments of 'pyrotechnic' virtuosity, from which you catch the composer's intention to astonish the listener, and other ones of high and dramatic lyricism, that reach the depths of human soul. How much importance do you attach to these conflicting aspects?

First of all, it is in the human nature to have ups and downs, to get very passionate and then quietly meditative. Secondly, many composers get to the point when they feel like artistically "misbehaving"… It doesn't mean showing off their virtuosity. I don't write virtuosic passages on purpose, I am just an emotional person and reflect my moods in the music.

The process of composition: please briefly tell us what elements set your inspiration in motion: life experiences, simple states of mind or can we talk about an already tested routine? When you write music do you usually start from an idea on the whole, e.g. like a concept album requires, gradually developed into different songs or does this general plan appear little by little while new songs are being composed?

I can't say for sure. Sometimes I get inspiration from my personal experiences, feelings, sometimes from a poem, or my own thoughts. It's impossible to start composing the music without having suffered it first. As A. Pushkin wrote, "I will shed tears over my creation"… If there is no concept in mind, don't waste the paper. In my conceptual albums, "Return" and "New Faust", I first had the major idea and then started seeking for its 'flesh'. But "The Sixth Sense" was put together song after song, that's why it turned out to be so diverse on the moods.

Albums like "The Sun of The Spirit" and "Porcelain Pavilion" are as a matter of fact solo works. Even since Little Tragedies became a 5-element band, composition has continued to be dominated by a single strong personality. What is the contribution of the rest of the group to the final result? Is there any discussion of ideas and suggestions or is it a simple acceptance of what comes "from above"? How does the whole group face the genesis of a new song in reality?

As you have already mentioned, "The Sun of the Spirit" and "Porcelain Pavilion" are really my solo works, and the process of composition has not changed since then: I still write all the music. What has changed is the means of expression: my friends play my music on real instruments, and their contribution is in how they interpret the material on their instruments. Of course, we discuss many technical nuances as a group and often have to change something in the original version. They play with me not only because they are my friends – with every new album I am trying to convince them that this music is worth playing. Usually, I bring a ready-made score of the album and we start practicing…

Little Tragedies' approach to live concerts: precise reproduction of studio recordings, or performance open to variation and improvisation? What are the problems you face on the stage compared to studio sessions?

Well, we wouldn't be able to reproduce it precisely on the stage, because the studio recording is done on the multi-channel equipment, whereas at a concert there are only two hands, and we have to select the most important parts – that's why the music sounds a little different. I like improvising. When we play live we quite often make such 'surprises'. Especially, when something goes wrong we try to use it with good effect, and that's where variation and improvisation skills come to be extremely useful (he laughs).

Which role do you give to improvisation in your music since your compositions seem not to leave a space for it?

All of us mostly have improvisations when we play solos live. Other than that, when time allows, I improvise solo on the Moog or keyboards.

Please explain the reason why you use poems as lyrics for your songs that acquire, thanks also to a recitative singing, a deep look of theatricality. Maybe you try to go beyond the limits of an only-musically-oriented artistic proposal?

Somehow, the topics of these poems are such that one shouldn't be roaring about them – this is something to talk about in whisper, and often things said quietly sound more convincing than those yelled at your ear. The theatrical element does, perhaps, take place, though not always intended. This is how I hear Gumilev's poems. As for recitation instead of singing, I don't think it's an innovation: it was used by such bands as Genesis, SBB, Czesław Niemen, etc.

What are the reasons why the main inspiration source of your lyrics is the Work by Nikolai Gumilev?

There was a time when I wrote music to my own lyrics, but after I discovered the poetry of N. Gumilev and other Russian poets I realized I couldn't say it any better. The world of N. Gumilev's poetry is very rich and our thoughts have much in common, that's why I often turn to his works.

Which musicians and composers (classical and contemporary ones) mostly influenced your musical background? What are the bands and artists your attention is more attracted to today?

My teachers in composition are J. Bach, W. Mozart, L. Beethoven, J. Brahms, R. Wagner, A. Bruckner, G. Mahler, P. Tchaikovsky, S. Rachmaninoff, R. Strauss, C. Debussy, I. Stravinsky, M. Mussorgsky, S. Prokofiev, D. Shostakovich, etc. In rock music, I like progressive groups of 1970-s. I think Dream Theater's "Six Degrees Of Inner Turbulence" and "Octavarium" are very good. But my favorites are still the Beatles' "White Album" and Queen's "Night in the Opera".

While listening to your songs we often find the same approach to feelings and dramatic quality of famous Russian classical composers. Do you try to give a 'Russian Touch' to your music? What cultural elements and typical aspects inherited from your country do you fill your compositions with?

It would be interesting to find out from our international audience what they have heard as the 'Russian touch'? As for me, I do not make a distinction between the Russian and the European composer's schools, because the Russian composers learned much from the Europeans. What I find in the music of many Russian composers is this deep sorrow and the tragic element, which can't be adopted – it simply runs through the blood.

Talking about the keyboards playing technique, your skills and your particular choice to use majestic and triumphal sounds reveal an evident passion for Keith Emerson and his patterns of composition. How important was this influence in your development as a musician and how do you manage to escape from such an overwhelming influence now?

As far as I understand, this majestic and triumphal sound was first used long before K. Emerson: it can be found in the music of Beethoven, Mozart, Brahms, Bruckner, Wagner, Mahler, Bartok, Shostakovich, etc., and, as a rule, was associated with the brass choir, or 'the blare of the trumpets'. Emerson reproduced it on the synthesiser. This sonority of the sound most often signals the finale of the piece, its dramatic climax and the summary of the material, which is quite logic. Although I love and respect Emerson as a composer and a keyboard player, I never tried to imitate him, and if somebody hears resemblance, I only take it as a compliment. Emerson's influence on me had been particularly strong before I entered the St. Petersburg Conservatory. Education helped me to discover other composers, and I started looking at what Emerson does in a different way. He actually taught me which mistakes I should avoid… I try to pay more attention to developing the musical themes, and thereby the virtuosity becomes just one of the expressive means.

Little Tragedies officially published 6 albums. What are your most favourite albums and why?

Here is a brief overview of our discography (For a detailed self-review of them, see the "1vs1" section - ndR)
I started producing serious recordings since 1998 – that's when "The Sun of the Spirit" was made together with the guitarist Igor Mikhel and sound engineer Eugene Shchukin. Shortly afterwards, it was followed by the "Porcelain Pavilion". These two albums were released by Boheme Records in 2000. Since then with the present line-up Little Tragedies had played quite different music before we actually got to a studio to produce an album. Recorded in 2003, "Return" was first released by Musea in 2005. The albums recorded in 2004 and 2005 appeared at the MALS label in 2006: "New Faust" and "The Sixth Sense". In 2006, we recorded another double CD album, "Chinese Songs".

You are going to publish a new CD entitled "Chinese Songs" within a few months. Could you give us any information about it in advance? How do you 'place' it inside the recent discography: in the wake of that turn towards more emotional and introspective atmospheres, typical of "The 6th Sense", or does it represent a return to the "New Faust"s 'acrobatic virtuosity'?

Acrobatic virtuosity? Well said! Actually, I was so carried away by the music that I simply couldn't stop and my hands were flying up and down the keyboard (he laughs). And when we recorded the "Eternal" I had a twisted ankle, and you can imagine me sitting at the keyboard with a swollen foot in a bucket with cold water…
Seriously speaking, I have changed with years, my attitude to life has been changing and that's why my music is changing too. I don't think there will be a 'return' to "New Faust", at least it will be something different.
As a brief characteristic of the recent albums I would say that "New Faust" is a 'Christian' album where we find a 'conversation' between the three: God, man and Satan. "The Sixth Sense" is about the relationship of man and society, and "Chinese Songs" are about man and nature. Have you ever read translations of old Chinese poems? That's about how the music sounds too…

What is the feedback of the Russian audience to your music? How has the band been received in your country?

We don't have many chances to play live in Russia to make any generalizations. I think that on the Russian musical scene we are a foreign body. Many people considered our music too complicated. To be honest, it's impossible to answer for sure – we don't know our audience well enough. The first album of the band came out only one and a half years ago, and we received the most positive feedback, strange to say, from abroad, though we sing in Russian. We are very pleased to receive e-mails through our website where people from different countries call themselves our fans – we couldn't even dream about it!

Have you ever played live out of Russia? Where? What were the reactions like? Where abroad would you like to play? In which towns?

We never played outside of Russia. It would be a very interesting experience. Of course, we would love to do a show in the big world-famous cities, but playing in small towns has its own advantages. Maybe one day in Italy…?

Tell us what drives you to intentionally devote your time, efforts, passion and hopes to a musical genre that is not rewarded by a satisfying income and is inevitably destined to be 'enclosed' as a niche for the few.

True music can never be admass. I have always known I would be a composer: it wasn't even my choice, I didn't have any options, and making money from it wasn't the first thing I was thinking of. In this respect, my friends and I are of the same views – we simply do what we like to do. And thanks God we have friends who volunteer to help us. We are very thankful to them.

Are you working on new projects right now?

Always. We are going to participate in a joint project of Musea label (France) and Colossus Magazine (Finland) called "Spaghetti Epic 3" where Little Tragedies will contribute a 21-minute suite based on Ennio Morricone's themes to the film "The Great Silence". The music is already composed, written down and will hopefully be recorded in August 2007. More detailed information about the project is available at Colossus' website.
As soon as we'll get finished with this song, we will immediately start recording another album which is being composed right now. Right after that, we plan to get to the instrumental album which was composed and first played on the stage a few years ago. We would like to record a revised version of it and hope it will be a surprise-release by Christmas 2008. Well, we have a lot of things to do…

Dear Gennady, our interview has come to the end. Here at Arlequins we are very grateful for the attention you gave us and we wish you all the best in your career. How would you like to greet your Italian fans?

On behalf of the whole band I would like to thank our Italian fans for their interest in our music, and also our friend Fulvio and the Arlequins prog-site for this opportunity to talk to the Italian prog-lovers. We hope they will particularly enjoy our next project – the Spaghetti suite.