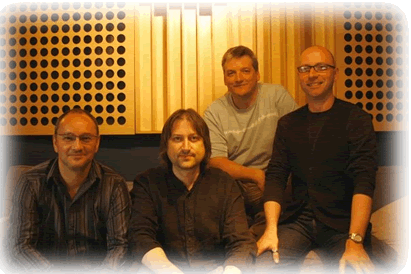 British band Big Big Train's new album ('The Underfall Yard') will bring joy to all Symphonic Progressive Rock lovers. Big Big Train is living a second youth and their music is melodic and complex as well. We talked with Gregory Spawton, one of the two leaders of the band to get to know something more about their new excellent album.

Some years ago, the band officially announced to call it a day but then something happened and a new phase began with the release of albums that, in my opinion, are much more beautiful and refined than those we were used to. Can you explain the difficulties that led to that decision and what then convinced you to go back?

When we signed to GEP in 1994 we were full of hope. Our first album, "Goodbye to the Age of Steam" was well received, we got a licensing deal in Japan and were getting some good gigs. Then we had problems with line-up changes and nobody seemed to like the direction we took with our second album, "English Boy Wonders". GEP stopped returning our calls and it all started to fall apart. The only reason that stopped us ceasing to exist was that we had some songs we wanted to put out and so we decided to do a final album which was our third CD, "Bard". We put Bard out as an independent release and, whilst it didn't set the world alight, it did give us confidence that we could succeed as an independent band. It was like a new start for us and rather than split up, we invested money in our own studio and started working on a new set of songs which became the "Gathering Speed" album. That album did really well and we are now selling far more CD's than in our GEP days.

We can note the participation of numerous guests who are part of the
current prog scene: how did these cooperations start and why did you feel you needed to expand the number of musicians?

The role that Andy and I have taken in recent years is as directors of music. We can play pretty well, but my strength is in songwriting and Andy's is in recording and production. For us, the song is the thing and if we feel other musicians can contribute something which makes our songs even stronger then we are keen. As our profile has risen a bit, the opportunities have increased and we've been able to work with some great players like Dave Gregory and Jem Godfrey.

In particular can you please explain how you got the opportunity to recruit Longdon? He's a vocalist whose voice fits beautifully in your music. How did this collaboration begin and what happened to the old singer?

David is a real find and, for me, is the missing piece that we've been searching for to make the band something really special. We heard about him from our mixing engineer, Rob Aubrey, who recorded David for Martin Orford's final solo album. Rob was straight on the phone to suggest we go in and have a listen and we were hugely impressed. We made some enquiries with David to see if he'd be interested and got on really well and I decided to replace Sean Filkins with David. Sean was understandably pissed off as he'd made two good albums with us and it wasn't a decision that was taken lightly. But I'm ambitious for the band and I knew that David was going to strengthen the line-up.

One aspect that I enjoyed very much concerns the addition of elements of an orchestra. Maybe I would have expected a more extensive use of orchestral parts in the arrangements. What do you think?

We will be expanding the orchestral elements next time. We will be using a full string quartet as well as our current line-up. However, it's whatever is right for the songs. Sometimes you can't beat bass, drums, organ, Mellotron and guitar.

Can you explain what does your new album talk about? Is it a "concept"?

It's not a concept album, but it has a number of themes running through it, both musically and lyrically. I'm interested in English history and the English landscape and the songs are explorations of both.

Generally speaking, the British prog scene seems to rest on stylistic
features of "New Prog". The impression is that the public and musicians don't like solutions too complex. But you have recovered a range of vintage sounds and worked hard on the arrangements. Are you satisfied of this choice?

Listening to the early neo-bands, they stripped the music down and much of it was devoid of the complexity and richness that made the classic bands so great. However, you can go too far the other way and lose the songs amidst a lot of instrumental noodling. We've tried to find the right balance and I think we have been successful. Our songs are structurally complex and if there is a need for showy playing, it'll be there, but only if it is right for the song, not for its own sake.

You have recently edited the reissue of one of your old album, "English Boy Wonders"; do you think to reissue other material from the past, including the albums you released only on cassette tape?

Rob Aubrey is currently remixing "Goodbye to the Age of Steam" for a reissue later this year. We've gone back to the source tapes and I think it's going to be a significant improvement on the original release. I doubt we'll do the very early demos, though.

In the light of your new musical development, how do you judge your early works? Is there anything you would change in hindsight?

When we re-issued "English Boy Wonders", we re-recorded a lot of it and made some major improvements. The songs were good, but we were short of money back then and ran out of cash to finish the album off. So it was good to put that right. In terms of the style of our early music, though, I'm comfortable with it. We were young and inexperienced, so some bits sound a bit under-developed but it all went towards the evolution of our music.

What kind of place has your band in nowadays Prog scene in the UK? Do you feel that somehow the public is reacting positively to proposals like yours which are trying to raise a bit over the average?

We've been a small fish for a long time but that is beginning to change and Big Big Train now has a relatively high profile for a prog band. Attitudes to the genre in England have been sniffy since the late 1970's but that is also beginning to change. Prog is no longer the music that dare not speak its name.