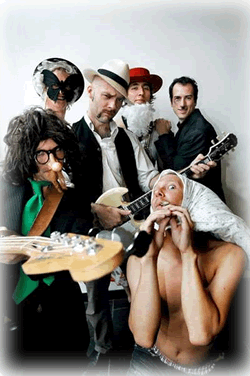 I already had the pleasure of talking about Jono (Jon Andreas Håtun is his actual name) El Grande's third album and I mentioned it among the best releases of the year 2009. "Neo Dada" is in fact an attractive work for its madness and its creativeness: here we have an Avant Prog interpreted with technique and exuberance by skilled musicians who also show a wonderful sense of
humour. We can find the same witty and theatrical attitude in Jono, a really unique character that you will know deeper reading this amusing interview.


First of all, who is Jono El Grande?

Jon Andreas Håtun is the name of a private person, and Jono El Grande is his alter ego, or as you may say in a Freudian manner: the embodiment of his super ego. Jono El Grande is the manifestation of the middle class boy Jon Håtun's aspirations. On the other hand, you may have noticed the orange clown Neo Dada (named after my last album), singing with me and the band on stage? Neo Dada is actually Jono El Grandes alter ego. And not only that, Neo Dada on his side claim to also have a second identity which symbolizes the dream of whom he actually want to be: Neither-Name Nor-Substance Nor-Anything.
To make this brainlessness of mine complete, I have to say that everyone reading this is very welcome to be our friends on Facebook. And eventually, in the future, you may see an opera with all of these charachters in it.

It is said that your first album, "Utopian Dances", has been registered entirely in your bedroom. What do you remember of this experience?

From 1995 – 2000 I lived in a small, moulded 30 m2 apartment in the centre of Oslo, where I had a 4 track studio, a Macintosh Performa 6400 and a workstation synthesizer placed under my bed. Yet, I wasn't lying horizontally composing under a regular bed. It was a so called loft bunk bed with a desk. I called this home studio Under My Bed.

Before forming your own band in 2000 you had different musical experiences. Which one(s), in your opinion, have been the most important for the further development of your career and for the growth of your musical identity?

That was the band Vidunderlige Vidda, because it was so completely far out by all means. We developed a very special nerve that is impossible to reinvent. 'Vidunderlige Vidda' means something like 'Wonderful Mountain Plateau'. In Norwegian it's an expression saying 'helt på vidda', literally 'entirely on the mountain plateau', and that's something you say about people who drift away from their issue while talking. And that was Vidunderlige Vidda's concept musically. We composed every song in a new style, and could switch from silly pop music to noisy contemporary stuff to cabaret music to free jazz in a second, we wrote random rubbish lyrics in a new language for every song, Russian, Swedish, Spanish, German, French etc., and we changed instruments and costumes constantly. The band was founded in 1996 by me on guitar, drums and vocals, and a couple of old school friends, Sjur Odden Skjeldal (drums, guitar, vocals), Stein Stølen Bjerkaker (bass, horns, vocals), and Owe Egon Grandics (who couldn't play, so I made him a band banner that he could hold on stage when we played) and sometimes with the well educated trombonist Øyvind Brække. We used to rehearse in Stein and Sjurs flat share, giving us several warnings from the police. Actually, our first idea was to create a band that no one liked, but eventually we got a group of loyal fans following us. We performed about 10 - 15 shows, in Oslo only, and then we disbanded in 1998. Some of the compositions from the time with this band will be released on coming albums, both original recordings and new arrangements with The Luxury Band.

I read that for a period you collaborated with some "concept bands" for occasional performances. What were these "concept bands" like? What were you doing exactly?

Those shows happened particularly at the legendary Norwegian art and culture scene Volapük in Oslo between 1995 and 2000. Volapük used to order one-night only performances from some other artist friends of the house and me. A lot of the stuff that happened on stage at that time was material I later developed and used in newer compositions to be heard on my three albums, 'Utopian Dances', 'Fevergreens' and 'Neo Dada'.

Are your albums to be considered solo albums? How is your orchestra involved in the drafting of the songs? Do the musicians have an active role or do they run perfectly your guidelines?

My albums are solo albums and I compose and orchestrate all of the music. Sometimes I'm happy to include some ideas the musicians contribute with, for instance a new way of performing a melody line on the violin or a different drum pattern. I compose sometimes on the guitar, but mostly with the Sibelius notation software. I have never bothered to install the piano keyboard, so I write music right the score. When a piece is finished, I extract and transpose each part, creating pdf files and e-mailing them to the musicians a couple of weeks before the rehearsals. Then everybody shows up, individually prepared, and plays the repertoire through until it's ready to be performed on stage.

How do you choose the musicians who play with you? Do you have a fixed line-up or they change from time to time?

The band I run today, with the stage name (Jono El Grande &) The Luxury Band, celebrates their 10th anniversary this year, 2010. Three guys from our debut concert line-up remains in the band today, while the others have been recruited during the past decade. And some have left, mostly due to steady orchestra jobs taking all their time. I love playing with new musicians though, and will include some special virtuoso guests on the next album.

Reading around on the net the reviews of your albums the name of Zappa is often mentioned as your predominant source of inspiration and someone even criticized your music saying that it is too dependent on this model. What do you think?

I have been listening to a various types of music that have influenced me as a composer, of course a lot of Frank Zappa and Captain Beefheart, but also other avantgarde/progressive bands such as The Residents, Magma, King Crimson, Gentle Giant, Gong, Genesis, Jethro Tull, Banco Del Mutuo Soccorso, Le Orme, Univers Zero and Henry Cow. I've also been listening to classical heroes such as Stravinsky, Varèse and Shostakovich and jazz legends like Eric Dolphy, Ornette Coleman and Dave Brubeck. In addition to them my music collection contains a rich variety of rock highlights from the 60's, 70s and 80s.
So I think – because of the rock-classical orchestrations and the mixture of genre expressions – some listeners may easily tend to just recognise the link to Zappa, while a trained ear will hear that there's a lot more in my music than just that.

In your music productions the burlesque or playfulness seem to have particular importance, also evident from the odd dressing on stage (I have seen some even embarrassing in your photos :-). How important is for you this aspect and what's the point in these disguises? Don't you think that your behaviours might distract the public from your music?

Personally, I think the typical casual clothing that jazz or indie rock musicians wear on stage are boring, while I think perfectly styled dressing of pop bands often are as superficial as their music. I like costumes inspired from the Dada art era, from the early days of progressive rock and some branches of heavy metal, and my way of doing that may be interpreted as abnormal – and even embarrassing. But the thing is we merge into these new identities because it gives us energy on stage, and that's good for our performing nerve and for the listener. If the visual part seems disturbing for anyone in the audience, the serious listener may just close their eyes.

In your biography I read that you call yourself a self-taught composer: how did your passion spring out and how did you learn to be a composer and when did you finally decide to become a full-time composer?

My early passion for avant-garde music sprung out when I first heard Frank Zappa's "Theme From The 3rd Movement Of Sinister Footwear" as a kid. Then my urge to start creating music myself gradually grew until I was 21 and I decided to become a full-time composer. That was one evening with a photographer friend Per Heimly on a bar in Oslo at 04:00 in the morning, and I was going to work four hours later. I quit my job the following day.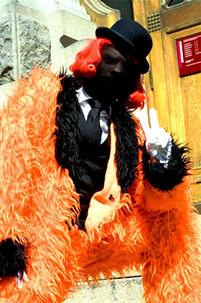 Do you think your music can fall under the definition of 'Progressive Rock' or do you think that this is just a meaningless label?

It depends on what you mean by 'Progressive Rock'. The phrase in my ears suits only old bands like King Crimson and Gentle Giant. Today we need a new name for contemporary experimental music on the rock scene. I believe that genres are born most times as a result of new musical-social movements. In such cases the names they are given – either by journalists or by the pioneer musicians themselves – represents the new-born genre quite well: Punk, Jazz, Blues, Rock, Hip Hop, Progressive Rock, Rock In Opposition and so on. They all blossoms with a few leading groups, but then something always happens: following bands "join" the genre without pioneering. They simulate the stereotype of the genre, and when many enough do this you have what we call a tradition. When it comes to 'folk music' the genre name may just represent the same music for centuries. But when 'progressive rock' is the name of a tradition, and not a definition of musicians that are experimenting unconditionally, I think the 'Progressive Rock' term has become meaningless. I prefer 'art rock', but just until that phrase is completely inflated too.

I personally believe that your music is complex and avant-garde but that can be enjoyed by listeners who aren't trained to such difficult musical styles. What do you think? What kind of audience listens to your music?

My music can be enjoyed by many more than just special interested music geeks, yet my main audience seems to consist of both men and women between 18 and 40 with some sort of cultural sector jobs. Presumably.

Apart from your Luxury Band, do you have other active projects at the moment?

I'm writing new music for a 22 piece jazz orchestra and also for the unusual modern classical trio Poing. The songs for Poing are quite different from what you expect hearing with The Luxury Band. We will record some of this stuff this summer to be released on a very special limited edition album on my own, new label in 2011. And I am recording my fourth Rune Grammofon release as well, a 10 year anniversary album. Hopefully we will manage to release this around December 2010.

What currently turns on Jono el Grande's turntable?

The albums that have been rotating on my gramophone turntable most recently are The GTO's 'Permanent Damage' (1969), The Comedian Harmonists' 'The Complete Recordings' (1935-39), Iron Maiden's second album 'Killers' (1981), Frank Zappa & The Mothers of Inventions' instrumental single version of 'Dog Breath' (1968), Kaki King '...Until We Felt Red' (2007) and Gongs Radio Gnome Trilogy 'Flying Teapot', 'Angel's Egg' and 'You' (1973).