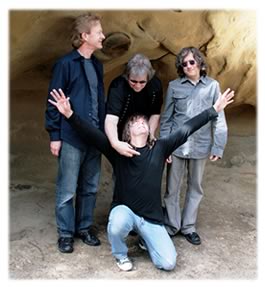 Mars Hollow were one of the big surprises of year 2010 in progressive rock. Experienced musicians and writers of good music, they were able to develop a catchy and melodic sound which doesn't take away quality. Thanks to this, and thanks to the many live gigs, they're reaching a good follow. In this interview they were very willing in talking about the band, the first album, their way of intending music and progressive rock in general.

First of all can you tell us something about the story of the band? How did you meet to play together?

Jerry Beller: I met Kerry Chicoine answering an ad for "drummer wanted" in one of the music rags here in Los Angeles; this was back in '05 for Ryo Okumoto's solo project Code Red. That group stayed together for about two years then Ryo got busy and could not do it anymore so the band dissolved. I still wanted to be in a band that was writing progressive material so I called Kerry and asked if I was to get a band together if he would be interested -- he said yes. I found Steve Mauk right after that and we started writing material; in those first sessions our song "Eureka" was started. After that I found John Baker (again in an ad in a music paper) and the material really started flowing. I was the founder of the band, I put it all together and now all of us share equally in the writing and all the rest of the band related business.

What kind of musical experiences you had before Mars Hollow?

Jerry: I played with a band in LA called Multiview, a hard rock band that got some press and record company exposure; after that I played in a band called Pieces of Eight which was a progressive band. I played in an ELP tribute band called Knife Edge off and on for about 9 yrs …..then I played with a southern rock artist by the name of Timothy Craig for about 5 yrs before he moved to Nashville. I then moved on to play with guitar virtuoso Iain Ashley Hersey for about 3 yrs off and on, then I joined Ryo's band and before these projects. I was playing with all different kinds of artist but progressive is my favorite type of music.

Can you tell us the meaning of the band name? What is "Mars Hollow"?

Kerry Chicoine: "Mars Hollow" is a place I used to go fishing with my friends when I was a kid; it's near Milton, Vermont. Gorgeous place – it's probably completely developed by now LOL. When I was growing up there, Mars Hollow was our favorite secret place – there were beaver ponds, a nice trout stream, lots of wildlife. Great fun for a bunch of kids not even in their teens. The name "Mars Hollow" always struck me as kind of cool so when it came time to find a band name, I remembered it and the guys in the band liked it. It sounds like a prog band if you know what I mean – kind of spacey and trippy.

What kind of music do you usually listen? Do you listen to modern prog rock bands?

Kerry: I listen to everything, but usually progressive rock, melodic pop, fusion and occasionally jazz. As for modern prog bands, I love Echolyn, Transatlantic, Spock's Beard, Frost*, Porcupine Tree, Mike Keneally, Frogg Cafe, Helmet of Gnats, Shadow Circus, that kind of stuff. Anything either dense, complicated (LOL), melodic, or otherwise forward-thinking, I'm all over it.

Do you know Italian prog?

Steve Mauk: Yes! PFM was one of my favorite bands back in the 70's. I love the album Photos of Ghosts (as well as Chocolate Kings) and still remember what a thrill it was hearing "Celebration" when I saw them play at the Roxy Theater in Los Angeles back in the day. Another favorite of mine is Banco. I particularly love the album "...di terra".

You recently played at Progday. Can you tell us how was the concert? Did you have a good response from the audience?

Steve: Playing Progday was an incredible experience It was a bit intimidating to share the stage with such other well know and respected bands, but I think we held our own. The audience was incredibly receptive and we received more than one standing ovation! It was a thrill for me to meet our fans after the performance as we were autographing CD's.

Do you often have chance to play live?

Jerry: Yes we do play live around L A and we are also getting invites to play festivals. We are trying to play live every other month or so as we are building our following. We hope to play more often not just in LA but all over the states and Europe. The whole world, actually!

Is the album selling well?

John Baker: For a new band in the Progressive genre that no one has ever heard of before, it has been a popular release. Of course, the band is surprised and very grateful.

The sales of prog rock records are very limited in Italy. What is the medium sales range of a band like Mars Hollow in America?

John: The medium sales range for a band like Mars Hollow is around 2000 copies (before the next record is released) that's considered fairly successful. Prog rock record companies consider 3000 copies and above to be very successful - 10,000 being like platinum in our world.

What do you think about progressive rock in America? Is there real interest for prog bands, except of course from old and hardcore fans?

John: Outside of music that gets American radio play, I think all rock music has been pretty creative and slightly Proggy in the past few years. I think more listeners are amenable to a Progressive style than are given credit. Prog seems to be a look back and a look forward at the same time; so the term Progressive is a bit of an oxymoron.

I've noticed that your album can be bought in mp3 files. Is this version selling well compared to CD? What do you think of this way to promote and sell music? Do you think that artists are by now forced to choose this way to promote music?

Kerry: With all of the illegal filesharing going on out there, neither CD nor MP3 sales are what they potentially could be; we seem to be selling about an equal amount of physical CD's and MP3's. I think high-resolution MP3's are part and parcel of today's digitized world, and they're here to stay, so bands might as well sell them alongside physical CD's. As for the illegal filesharing, what can you do? At least people are spreading the word, although not making any money is going to affect us being able to afford to make another album, sad to say.

What are the ways you are using to promote the album?

Kerry: Our label (10T Records) has used their contacts to help spread the word about the album; due largely to their efforts, we've been lucky to have close to 50 online and print reviews, and thankfully most of those have been positive. I also help spread the word via our Facebook page and various progressive rock websites, online radio stations, and the like.
Honestly, we haven't done a whole lot of promotion but in spite of that, the word seems to be spreading almost organically, like in the old days LOL. I think word-of-mouth via the various progressive rock sites has really helped us more than anything. It's almost as if it's taking on a life of it's own, which is about as good as it gets in this day and age; we are very grateful for the response, please believe!

I think Mars Hollow has a well defined "American prog sound", but when I listen to "Eureka" and "In your Hands" I can feel a clear European mood. What do you think about that?

Steve: It is interesting that reviewers have characterized our music as "American" or in some cases as a "California" sound. In the case of "Eureka" many of the piano parts were certainly influenced by my British and European progressive rock idols!! In general however, I think we approach each song as its own creation and really just concentrate on making it sound like "Mars Hollow" and a song that people will enjoy.

I've noticed that songs on the album are based on structure and feeling rather than useless technical passages. How do you approach the composition process, and who writes music in Mars Hollow?

John: Although a few of our tunes are over ten minutes long, we try to keep the arrangements moving. We'd rather err on the side of not enough over too much. Things can get boring if not patrolled. Our writing process is quite democratic and almost always starts with an idea brought in by any one member. As for the vocals, I personally find it a bit uncomfortable to sing a lyric or melody that was written by someone else, but democracy is not always easy.

Some of the songs have an undoubted appeal (like "Wild Animal"). Did you have any appreciations outside of the prog world?

Kerry: John (Baker, guitarist/vocalist) and I are old-school melodic pop fans, we live and breathe stuff like XTC, Todd Rundgren, Beatles, Beach Boys; we've both had our own original pop bands in the past so we're no strangers to writing that style of music.
One thing I've always loved is when a progressive rock band shows their songwriting chops by having a catchy "single" on an otherwise impenetrable prog record LOL. Like ELP for example, "Lucky Man" or "Still, You Turn Me On", or Transatlantic with "Bridge Across Forever."
With our album we wanted to do something similar, so "Wild Animal" and "Midnight" were chosen not only because we like the songs, but because we felt they had the potential of appealing to a wider demographic. Of course, some of the hardcore prog-rock fans don't like this kind of approach LOL, but for me, I'll always have a soft spot for a catchy melody. It lends a nice break between the musical onslaught of the more traditional extended prog-rock songs.

Your next album is going to work with Billy Sherwood, do you think you will get any improvements to your sound by his work?

Jerry: I would not say that there will be improvements with Billy, just a different production value than on the first CD. Ronan Chris Murphy engineered, mixed and mastered the first album and he did a great job, there have been a lot of great comments about the his production. Ronan deserves all the credit for that.
We contacted Billy shortly after finishing the first album – before it was even released, actually – and he expressed interest in lending his expertise in the production of the follow-up. We met with him, checked out his studio, heard some juicy Yes stories (LOL) and basically had a great time. Billy's got a great energy, keen musical instincts, and we're very honored and excited to work with him.

In the end, can you anticipate anything about the new album? Will you follow the "path" of the debut or we have to expect any difference?

Steve: From a songwriting perspective I think many of the new songs are perhaps a little more "adventurous" in both their arrangements and instrumentation which is exciting to us. But you can expect very strong melodies that will play in your head over and over! From a production standpoint, we are overjoyed to be working with Billy Sherwood and producing a record with what we believe will have a very big and modern sound.