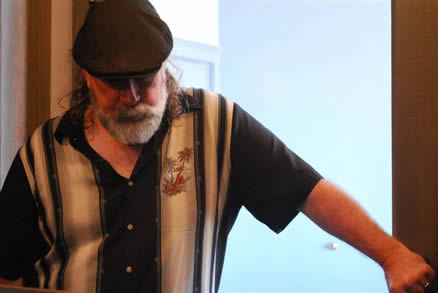 From literature to music... Mack Maloney is an American successful writer who for years has been giving to the light several novels, mainly science-fiction oriented. But his first passion is actually the music and, since he's a progressive rock lover, he decided to start one more artistic career. After getting in touch with other musicians he started to provide the foundations to create a concept album to tell, through the sounds of rock, a new story and thus the CD "Sky Club" was born. We exchanged by email some few words with Mack, who tells us the stages and various anecdotes of his career and this is what resulted from this.


Why did you decide to start a musical career?

I've always loved music. My grandfather ran a record shop in Boston, where I grew up, and even as a small child he used to give me the hit records of the day – 45s and 33RPMs -- and I'd listen to them over and over again. I don't really consider myself a musician, though. I wasn't born with the musician's gene like the other guys in the band were. But I've done a lot of listening over the years and I've played synths for about 20 years, so I was able to play on the CD and not have it sound too terrible.

How was the process of songwriting?

There are only two original songs on the SKY CLUB CD. One of them, "Cross My Heart" was sent to us by our friend, Steve Nardelli of The Syn. It was a rough acoustic guitar and voice demo and we built it from there. The original song we came up with from scratch was "Star Surfing 1962." That began as a patch on my Yamaha keyboard that I was playing around with one day. Mark Poulin, who is responsible for much of the music on SKY CLUB, heard it and he started playing a sort of surf guitar on top of it. We recorded it like that, then Amadee Castenell, our sax player, added his part, and voila! we had a song. Many people tell us it's their favorite song on the CD.

What are the differences in writing a novel and writing a musical concept album?

Well, with the creation of it, they both start with an overall concept, but then they differ after that. Writing books is a very solitary thing. It means hours in a room typing into your computer, or in years past, banging on a typewriter. It's a constant search for ideas, for plot lines, for dialogue, and there's no one there to help you. With making a musical concept CD, it's a collaborative effort. We spent a lot of time in the studio, figuring out things, getting the music right, getting the singing right. Then the whole mixing process comes about and again, its collaborative. So, you have several brains working on it at once. In many way it's much more interesting, and more enjoyable than writing books.

What are you expecting from the album?

Truthfully, if just one person buys it, listens to it, gets the concept and enjoys it enough to listen to it again, I'll be happy. If it's more than one person, or if hundreds or thousands of people do the same thing, that will be great too. In that way it's like writing a book. I've been lucky to have sold millions of books, but I never think of millions of people reading them. I just think of one person reading one of my books and hopefully enjoying it. I write it for that one person to enjoy. That's always the goal.
But the very basic, bottom line reason we created the CD is for someone who wants to hear an album full of powerful songs. I realize that when people hear that an author has recorded a CD about a traveler lost in space, they might assume the music is like early Moody Blues, sort of fairyland rock – but it isn't. Many of the songs on SKY CLUB are filled with power and emotion and they really rock out, while still having elements of progressive rock.
We didn't start out trying to sound like anyone, but since the CD has come out, we have been compared to Pink Floyd, Yes, Supertramp, Horselips, Brian Eno and the Alan Parsons Project – those are all compliments to us, to be mentioned in the same breath as great musicians like that is unexpected. But all those bands are capable of producing some pretty dynamic music, especially Yes and Pink Floyd, and that's what we set out to do.
Perhaps the best compliment we've heard so far came from a guy I know who is a fan of my books. He has a very interesting job – he's a pilot and on occasion, he flies for a certain part of the US Government that is probably best not mentioned here. I hope you know what I mean – a certain three-letter agency? Anyway, I sent him an advanced pressing of the CD and he really fell in love with it. He's always flying to strange places around the world: Kyrgyzstan, Uzbekistan, Kazakhstan, places like that, and he told me that as he is flying over the Atlantic, 45,000 feet high, in the middle of night, he'll put our CD on and he and his flight crew will listen to it while they're crossing over. That image is very intriguing to me – what some people do while the rest of us are sleeping. And the fact they're listening to our music while they're doing it. It's a real 21st Century moment.

Was your experience as a novelist useful in some ways for this new adventure?

Yes, in the planning stage it was, because we approached the CD almost as I would approach writing a new book. We had lots of notes and ideas written down and we storyboarded it, meaning we figured out a lot of things in advance, determining what was going to go where and what song should follow what song and so on. There are 12 songs on the CD and it was really like putting together 12 different chapters of a book. They are individual things but it's useful to see them in advance as a whole.

How did you chose the musicians that play on "Sky Club"?

Mark Poulin and I have been friends for a very long time. He's a great musician, guitarist and drummer and an outstanding singer. When I first got the idea for the CD, he was the first person I told it to because I knew he'd get the concept right away and because he's so talented. On the CD, he plays all the drums, all the bass, eighty-percent of the guitar and does all the voices. So, in many ways, it's really his CD. It's his tour de force.
Our other guitarist is Rich Kennedy. He records under the name Woco, and he also happens to be my wife's brother. He's also a great guitar player in the fashion of Jimi Hendrix and Eric Clapton and I knew his playing would complement Mark's perfectly. He's also a big sci-fi as I am, so he also got the concept right away.
We met our sax player, Amadee Castenell, through the studio where we did the demos for the CD. We'd put a synth sax on one of the early songs just to see what it would sound like. When the engineer first heard it, he asked if we wanted to put real sax on it. We'd never considered putting horns on the CD, but we figured we'd give it a try. So, he introduced us to Amadee, who, it turns out, has played with Paul McCartney, Paul Simon, The Eagles, Bonnie Raitt, Fats Domino, Elvis Costello, The Neville Brothers, on and on – at least a couple dozen big artists. He heard the song, and put down a perfect sax part in like five minutes. We had left a lot of open bars on some of the demos, places where we planned to put guitar solos in later. But now we had this fantastic sax player, so we wound up having him play on almost half the tracks. Truthfully, once Amadee got involved, the CD went up to another level. He's an amazing musician. We're still in awe of him.
The fifth guy is Chris Billias; he plays all the piano on the CD and he's also our producer. We mixed and mastered the CD at Bristol Recording Studios in Boston. It's a pretty famous place. When we first went there, Chris was the guy they assigned us and he understood right away the sound we were going for. He's also a great piano player. So, as the project went along, we were able to utilize his piano talents too. Again, we were very lucky to hook up with him.

Have you been influenced by some rock artist for the album?

I think the number is too numerous to mention. I'm a big fan of the Beatles, of course. In my opinion, they started progressive rock music.

"Sky Club" has been defined as a progressive rock album. What do you think about that? Are you a fan of progressive rock?

I listen to a lot of progressive rock and have done so for years. I was a big fan of YES, the "real" YES, not so much the current version. It's not YES unless Jon Anderson is part of it, and I realize I'm not the only person who has that opinion. I'm also a big fan of Patrick Moraz, who of course played with YES during one of their most progressive periods, and then went on to play in the Moody Blues for 11 years. I've also been very lucky to be good friends with Patrick for about twenty years now. Anyone who has ever spent time with him and his wife Phyllis know they are two of the nicest people you'll ever meet – this on top of Patrick being this tremendous genius of a musician. We credit Patrick and Phyllis as being our spiritual advisors on the CD. They were with us in spirit during the entire creative process.
I think the CD can be described as progressive rock, because we have a lot of the elements of prog rock in there. It was mostly an exercise in taking non-prog rock songs and making them prog, and I think that's why a lot of people like the CD. People probably never thought they'd hear a Who song played like a prog-rock song, or a saxophone on a Cream song, but as the president of our record company said after he heard the finished album, "I think you pulled it off."
It's also been called the first "Covers Concept" album, and when you think about it, that's progressive in itself.

What are your more immediate projects?

I'm working on a book right now about fighting modern day pirates, and as soon as it's done I have to start another one about UFOs, which is something I've always wanted to do. As for the music, we've been talking lately about a second SKY CLUB CD. We have a few things we have to do first, though. We've been invited to contribute a track to an upcoming tribute CD to The Flower Kings. We're doing "Church Of Your Heart." Once that project is done, and I've finished my next book, I think we'll start talking seriously about a second CD.

Is your process of composing influenced by facts of life?

Most of my book writing is military fiction and some is science fiction, so while a lot of it is based on research, the core of it isn't really influenced by the 'facts of life' as you say, or certainly not my life. I've never done any of the things I write about. But I talk to many people – military people and people who have worked for U.S. intelligence services – who give me tips and anecdotes which I include in my books. Those conversations are about as far away from music as you can get.

How much and in which way is music important in your life?

I think music is one of the most important things in my life, definitely in the Top Three. One night my wife and I were talking about celebrities and famous people and who we liked and didn't like, and she said: "Do you realize that all your heroes are musicians, not writers?" and she was right. My heroes are The Beatles and the guys in Cream, The Who, Marillion, and people like Jon Anderson and Matt Malley of Counting Crows, Julian Colbeck and Terry Thomas, Trey Gunn of King Crimson and Patrick Moraz, of course. But I can't really say I consider any author a hero of mine. So, in a way, music is more important to me than literature.

Is it difficult to bring on a novelist career and a musician one?

No – it's just a question of fitting them both in, of finding the time to do both. I'm lucky that I have a job (writing) that isn't relegated to a certain time of day. So if I take off for five hours to go to the recording studio, I can always make it up by working late that night, or very early the next morning. My hours are flexible, as they say.

Do you think you'll make a new album in the future?

Yes, as I mentioned before, we are talking about it. I already have some ideas about what it would be about. I think we would pretty much do the same thing: record a group of cover songs and arrange them to tell a story. People seem to like the concept of the first album, so why change what works?

I know you're helping Jon Anderson in promoting is new album. How did you meet him and how's it going on this promotion?

I've met Jon only through email so far, but the promotion is going great and his new CD (with Rick Wakeman), which is called "The Living Tree," is one of the best things he's ever done, in my opinion. It's just his vocals and Rick's keyboards but the result is a beautiful, peaceful work of art, which I believe is exactly what we need these days. We're also working on an idea called "Jon Talks Music" which would be a website where Jon talks about all the songs he did with YES, short capsule descriptions of what it was like recording them and what was his inspiration in writing them. It's fascinating reading some of the material he's already sent me. For instance, "South Side of the Sky" on "Fragile" was inspired by a story of two climbers who died while scaling a mountain. I've listened to that song a million times and I never knew what inspired it. It should be very cool once we've finished it.

Is there something other you want to say to Arlequins readers?

Just to say thanks – and I hope you enjoy our CD.