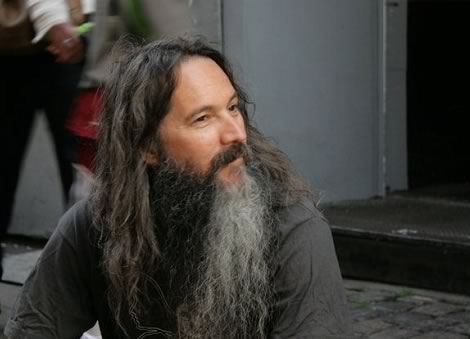 A vinyl limited edition, semi-acoustic and mysterious, featuring Billy "Love" Forsberg and KG West from the Siena Root band… A new space creature by the deus ex machina Scott Heller, aka Dr. Space. So the emblematic and charming title: "West, Space and Love", with the three protagonist names. An unusual release, sold out very quickly. Dr. Space told us this one… and many other interesting secrets about the "Øresund Space Collective-galaxy".

We can start with a spontaneous question: the Øresund Space Collective last album, "West, Space and Love", was recorded in October 2009 but released on March 31st 2012, this is more than two years afterwards. Why?

This material was originally recorded to add some extra material that was required for the Glossolalia CD we made with Dan McGuire and his Facemop label. We had recorded 15 pieces of music and KG from Siena Root mixed it. We sent off some pieces to Dan and then we had the rest. We are all busy with other stuff so it took us a while to sort through it and finally put it in order but I am really happy with the results..

It was a very particular release: a limited edition of just 200 hand painted vinyls, featuring Billy "Love" Forsberg and KG West from the Swedish band Siena Root – two players who really like the jam sessions - and a very different sound compared to the usual Øresund records. Was it a long meditated decision?

Well, we have been good friends with the Siena Root guys since we played some gigs together back in 2008 and the KG has been in the studio with us twice and Sam and Love have also played live with us. This session in 2009 was supposed to have a bass player and another synth player but they could not make so it was just the three of us. We all agreed to make this a pretty low key release in limited quantities. Only 110 of the sleeves are hand painted though. I was surprised they all sold out in a week.

Do you think it will be a good news for all your fans or it is reserved just for a particular inner circle?

Well, it will be a collector's item now but the music can be heard and bought on our bandcamp site. So the music is available for everyone to enjoy.

Are you going to re-release it on CD?

This will be another discussion with the guys from Siena Root. If we do there is extra material that could be added for sure. No CD is planned at the moment. More likely would be a re-press with a proper cover. We will see.

Will another record with same protagonists be possible, in the near future?

We have no plans at the moment but I would like to do it again for sure.

During this last period you have released in the same music year either albums exclusively on vinyl and other ones on CD (with totally different tracks, obviously). Is it with particular regard to the collectors?

It is not really focussed on collectors. The Live at Roadburn LP we only got the rights to do vinyl and not CD. A CD production would be complicated as VPRO in Holland, who puts up the streams has some rights as well. Dead man in Space was on vinyl first in 300 copies and then on CD as this was far too few vinyls, it turned out as it was sold out in 3 months. The CD version is not totally different but it has additional material in general and is specifically mastered for CD.

"Øresund Space Collective" is the Scandinavian open ensemble par excellence. Many great musicians played in and they came (or actually come) from very good bands such as Blandbladen or Papir. How do you usually choose them?

It is almost always bands that I am good friends with that end up playing with us. The collective is always evolving. This weekend (April 7th) we will play a gig with Paw from the Danish band Highway Child (RIP) for the first time and also a new drummer from the Univerzals. See what happens??

The Scandinavian scene has, for many years, appeared as an excellent "bulwark" for typical vintage sounds and seventies musical traditions… hasn't it ?

This is for sure true for Sweden and less so for Denmark. But that 70s sound and psychedelic music in general is growing in Denmark and some cool new bands have appeared over the last many years like Causa Sui, Papir, Troldmand, Fuzz Manta, etc..

The bands seem to show a particular respect for the past. Do you think there are particular reasons about this deep "roots" study?

This is where the bands all used to just jam to find their musical ideas to express themselves and that is what we do. We do not create pop songs or any songs for that matter using any kind of formula, it is music created at that moment in time. We all of course are big fans of the classic space, prog and hard rock of the 70s..

A tough question: does Øresund Space Collective exist… or is it a Scott Heller project, at the moment?

I don't see it that way. I see it as a true musical collective of like minded musicians who are adventurous and willing to take risks to find musical utopia or ecstasy. It is a true musical democracy and everyone brings their own ideas. I am just the director, the organizer, the one who drives the train called ØSC.

What's about a particular production called "Picks from space"?

In the old days we used to have these jam session back and forth between Copenhagen and Malmö with the members of Bland Bladen and Mantric Muse and these are a serious of the best jams from all those sessions. I used to burn sets of them for our really dedicated fans but I simply do not have the time anymore so these are all available also at bandcamp.

Do you change your composition method with the different musicians?

No.. it is always 100% totally improvised music. The dynamics change though when someone new comes in.

Is "psychedelia" enough in generally describing the Øresund style?

I don't think so. I think we are also a very progressive band, pushing the limits of what sound you can create with 2 guitars (sometimes more), 2 synthesizers and bass and drums.

If I say "Ozric Tentacles", what would you answer?

Great band but much more electronic than we are.

In your opinion, nowadays are there other reference models for the space-rock bands?

I think all space rock bands will get compared to the ones that kind of defined the genre originally, that being Pink Floyd and Hawkwind. But I really keep in close touch with this genre so bands like Farflung and White Hills bring in a more intense almost punk element into the space rock, while bands like Hidria Spacefolk are about the groove and a band like Bong and Dark Budda Rising, are making slow, heavy, dark space doom, so there is room for everyone to do their thing and we are doing ours…

Last question: Are there already new albums or new important projects?

Yes.. I just got the master for our next CD, called Give your Brain a rest from the Matrix yesterday (April 3rd) and today I received the vinyl test pressing Phaze your Fears. We will also release a split 7" record with Papir later this year on the Transubstans label. We maybe also have the rerelease of our debut CD, which has been out of print for many years on a double vinyl. The fans can of course look forward all of the live concerts that we record and put up for free on the internet so just check out our web page a few days after each gig and enjoy the musical journey that the fans did… Thanks for the interview. I hope we get a chance to play in Italy one day.