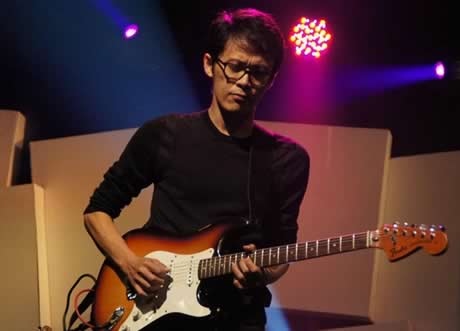 In Indonesia Tohpati is a very popular artist, especially appreciated for his mainstream career as collaborator of the most important Indonesian popstars. However we appreciate him for his work with the jazz-rock band called simakDialog and in particular for his solo albums where he revealed himself as a complete and extremely refined artist. We are indeed curious to know him better and to know what are the latest developments

Let's start from the end. Your last album, "Riot", is maybe the most rocky of your discography. You also quoted some famous bands such as Led Zeppelin's "Immigrant Song". Have you come back to your original passions?

Initially I just wanted to start a band as a trio, then rehearsals somehow let rock music breath in this album. When I was a child I obviously used to play a lot of rock songs and this breath is always present in my music.

With "Riot" you put apart the Indonesian ethnic influences that characterized almost all your previous works. Why?

I had to because if I had added an element of Indonesian ethno-music to the trio, this would have been no different from "Ethnomission".

What was the process of making the Ethnomission album?

After I'd written the compositions, I had a workshop with the percussionists and the Danese (bamboo) flute player, so that they played in their traditional music style. I then proceeded with the bass and drum workshop, after which there were joint rehearsals with some changes made because, of course, I also had to accept input and ideas from the other players in the band.

Where did you find that impressive and very young drummer on "Save The Planet"? (Demas Narawangsa was just 16 when the album was made.)

I knew he was talented and could play drums incredibly well at the age of 8, I knew his uncle who was making a video clip at that time, but I did not want to play with him at the time because he was too young.

Trisum gathers three of the greatest Indonesian guitarists and usually the guitarists are always primadonnas who like to be at the center of the attention. So in theory the coexistence of three famous guitarists should be not easy. Anyway, watching your concerts and listening to the album, I have to admit that you managed to merge without any sense of envy. What is your secret?

Yes we have to give and take to each other, and although three of us have a very different style in music, it's not easy for me to make a composition of 3 guitars, but this was a challenge. About the jealousy between the three of us I don't think that we have this feelings. We are so close as one. Trisum music for me is more commercial.

In simakDialog, one of the most important and long aged bands of the Indonesian jazz-rock sphere, you have a supporting role in the song composition, leaving most of the work to Riza Arshad. Have you ever thought to be more involved in the composition?

I joined simakDialog from the beginning when their type of music was different from what it is now; they were still using drums. SimakDialog's current compositions are all by Riza Arshad because he has a different compositional style from the rest of us and I see myself as just a player in the group.

In your solo albums ("Lukisan Pagi", "Serampang Samba" and "It's Time") there was an evolution from mainstream to a more complex sound. How do you explain this evolution?

Basically I play the music I like, don't need to be complicated, don't need to be commercial. Besides, commercial pop songs are not easy songs to play as well. Moreover, in Indonesia we must sometimes be careful to put ourselves in the public eye, to maintain a balance between "commercial" and "idealist" music; they are mutually supportive.

In 2008 you played a concert with a string ensemble. How did this come about? Is there any chances for the same line-up to enter a recording studio or to record a show for a live album?

I had long dreamed of playing accompanied by a string ensemble, but this carries a great responsibility and happens at no small cost. However, in 2012, last year, I recorded with the same format and this will be released as a DVD live album.

In Indonesia you are a very well appreciated pop musician. Why have you made albums so different from mainstream? What is the community response to your solo projects?

As a public figure in music, especially as guitarist, I had the mission to try to introduce Indonesian listeners to different types of music. Not everybody enjoy it, but more than a few do like the kind of music on my solo albums.

Which musicians have influenced you the most?

Pat Metheny, Wayne Krantz, Chick Corea, Keith Jarrett, and Sting.

I care a lot the wealth of Indonesian jazz-rock. Beside you and your projects (Bertiga, Ethnomission, Trisum, simakDialog) there are also similar artists such as Ligro, I Know You Well Miss Clara, Discus, Riza Arshad, Balawan, Indra Aryadi, Tepelere and many more. Are there more artists you can recommend to me?

Indonesia has many great musicians; there is a musician from Bali who's not very popular but very nice, but I just don't remember the name.

What are your next projects?

There's Ethnomission, Bertiga, and solo acoustic guitar.


Special thanks to Leonardo Pavkovic, Nengah Rikon Gunadharmada, Andy Julias, Muhamad hidayat Alfie Syahrine, and Terry Collins for making this interview possible.