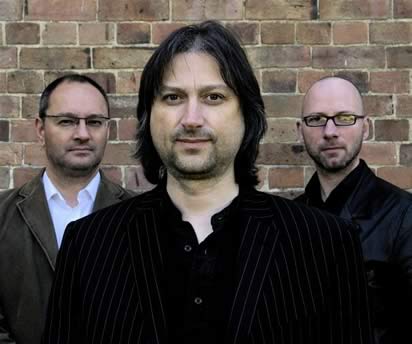 Big Big Train strikes back! This band is continuing to release stunning and well shaped albums. 'English Electric part I' conquered last year the preferences of many listeners and now Big Big Train is back with a second part, full of captivating storied sustained by intriguing music. Tree years before we already made an interview with founder Greg Spawton, here we go again with a new one looking forward to listen to more exciting songs.

'English Electric Part One' was welcomed in a very enthusiastic way from both fans and critics, did you expect all this success?

As we were writing and recording the album, we all felt very confident that we had captured a set of strong songs and performances. However, once you get to the mixing stage it tends to become less easy to be objective and some of the excitement tends to wear off a bit due to the fact that we have heard the songs hundreds of times. Therefore, a certain amount of anxiety always sets in before release. One of the concerns for the releases of both parts of 'English Electric' was the number of high quality albums which were coming out at a similar time (Marillion and Steven Wilson, for example.) I was worried that our albums may lose out in terms of publicity, press coverage etc. but they held up very well.

You described 'English Electric' as "a celebration of the people that work on, and under, the land and who made the hedges and the fields, the docks, the towns and the cities". It is kind of a collection of stories about more or less common people, with no "big heroes". How this idea is born?

I have a background in archaeology and a great interest in history. I'm fascinated by how the English landscape has been formed over the centuries by the actions of mankind and by natural forces. Where people have helped to shape the landscape it is at the hands of ordinary folk that this has been done. Sometimes this has been at the command of powerful land-owners and at other times it has been due to the vision of far-sighted engineers. But in the end it all comes down to ordinary men and women, in communities past and present, working on the land.

Do your stories refer to real people? Are any of them also autobiographical?

Most of the stories are about real people and real places and some of the people we write about are members of our families. For example, 'Summoned by Bells' is about an area in a Midlands town where my parents grew up. There is one particular character on the album who was particularly important, and that was David's Uncle Jack. He was a coal miner who lived for the countryside and used to spend his spare time walking along the hedgerows with his dog Peg. He was a character who was able to link the darker songs set under the ground or in other dark places with the songs set in the English countryside.

Do you feel related someway to any particular character described in your stories?
Jack lived for most of the 20th Century, he dies at Christmas in 1999. As well as linking the light and the dark, his character also reaches into the past. He lived not far away from where I grew up. I feel very connected to him and he was a big influence in David's life. Another story which I feel very close to is the father / son tale in 'Swan Hunter'. That was based around the memories of one of our friends whose family all worked in the shipyards.

One can obviously perceive a strong link between 'English Electric Part One' and 'Part Two' but also with 'Underfall Yard'. There are also musical references between these albums. For example 'Permanent Way' contains a musical theme that you can listen to in 'The First Rebreather' too. What's the meaning of such kind of references? Are there other references that you can show us?

Yes, there are a number of musical references across both parts of 'English Electric'. I have always been keen on Big Big Train using themes and motifs. I think it's fun and, more importantly, creates a sense of cohesiveness about the albums we release. I've always believed that albums are best as singular pieces of work rather than as simply collections of songs. The theme you mention on 'The First Rebreather' does recur in 'The Permanent Way', and also in "Upton Heath". In fact, there are a number of other themes from 'Rebreather' in 'The Permanent Way', as well as themes from 'Hedgerow' and from 'Summoned By Bells'. There are many other examples across the albums as well, but 'The Permanent Way' is where I tried to bring everything together, including references in the lyrics to 'The Underfall Yard' and the 'Far Skies' EP.

When you began to work to 'English Electric' was it clear to you that it was going to be a double album?

Yes, it was always intended to be a double album. We initially expected to issue it in one release as a double CD, but that caused me concern. There would have been so much music on it, and it would have been far too much to absorb. Therefore, I don't think it would have done as well for us. Many double albums have been poorly reviewed on release and then re-appraised in later years (for example 'The Lamb Lies Down on Broadway') and I wanted to avoid that. So we decided to make a double album but split it into two separate releases.

One of our contributors described 'English Electric Part One' as an hypothetical Genesis album that, in an alternated reality, didn't make the mainstream turn of 'Abacab'. What do you think?

I'm very comfortable with it. Quite a few listeners have suggested that we have carried on from where Genesis left off when they changed direction. Genesis were great songwriters and it's very flattering to be mentioned alongside them. However, I think we have our own sound. Genesis never used a brass band or string quartet.

The new album starts with a long and challenging tune and then there is a strong prevalence of more relaxed, sometimes poppish, moods. Has it been a precise choice?

The sequencing of the two albums caused huge debate within the band. Originally, the longest track, 'East Coast Racer' was supposed to be the opening track on the first album but we needed some extra time to finish it so we moved it to album two. The temptation with longer pieces is to put them at the end of albums, but 'East Coast Racer' grabs the attention very quickly so we always wanted it at the front of whichever album it was on. As for the other songs, well, many of the songs on 'Going for the One' or 'A Trick of the Tail' are not straight-ahead progressive rock songs but those are both great examples of progressive rock albums.

Big Big Train is nowadays mainly a studio project. Do you miss being also a live act?

There are only so many hours in the day. Many of us have young families and music only provides part of our income so we have had to make decisions about what our priorities are. Progressive rock has a fairly large total potential audience but it is spread sparsely across the world. As we feel we are good songwriters, we thought the best way of getting the band's music heard and growing our audience was to focus on writing and recording. That is certainly a strategy that has worked for us and now we are in a position where we get a lot of very good offers of gigs and many people want to see us live. We're still writing and still recording but we are also now in discussion about playing some shows and recording a DVD.

Your line-up has gradually expanded and the newcomer is Danny Manners. What was his contribution to the group?

Over the last few years, we've been able to form what is for me, a very strong line-up for Big Big Train and one which is geared up for live-work. Both Dave Gregory and Danny were close friends of David Longdon so we began working with both of them on the back of that friendship. Danny was originally brought in to play some upright bass on a couple of songs. We knew he was also a pianist so we then asked him to arrange and perform some of the piano parts. He came back to us with such strong musical ideas and performances that he quickly became a major feature of the album. We get on very well, too, so we asked him to join. Danny has a background in jazz, so brings a slightly different approach with him. However, he's turned in his first couple of keyboard solos recently and he's a natural at it. I like keyboard solos with tunes, not just quick runs up-and-down scales, and Danny writes parts which are full of melody.

One thing I really like is the sound of your newest albums that is really rich in details: you can perceive distinctly every instrument. Even the package of your CDs is very nice. In a world that is increasingly at the mercy of digital music and low-budget productions you propose instead something of great quality. How is important for you the choice of the details?

We have spent a lot of time and a considerable amount of money on recording and producing albums which are of a high technical standard and which feature striking artwork and photography. We all remember the significance of owning beautiful vinyl LP's back in the 70's and we do our best to create CD's which people will obtain pleasure from in a similar way. This does cause us more work as we run our own label and CD store and still find that people buy a higher percentage of CD's than of downloads (which are much easier to distribute) but we are adamant that we want to maintain those high-production values. Funnily enough, we are now working with a label called Plane Groovy who produce vinyl LP's to exacting standards, so we now also have high-quality vinyl versions of 'English Electric'. It's back to the future.

How do you think your music will evolve in the future?

The next studio album will be a little different. However, we are in a very good place at the moment and won't make giant leaps in different directions so it will be recognizably Big Big Train. More of a challenge will be taking it the music into a live environment with the brass band and strings.

You told us that a reissue of 'Goodbye to the Age of Steam' was on the way. Is it already scheduled?

Yes, it's out there now. It was totally remixed from the master tapes. The original artwork has been lost so we also commissioned some new paintings from Jim Trainer and it's a beautiful package. I have to be honest and say that we have moved on a long way since 1994 when 'Age of Steam' was first released, and so it isn't up there with 'The Underfall Yard' or 'English Electric', but it's not a bad album for a young band to have made.